Littledata's BigCommerce connection uses a combination of client-side and server-side tracking to ensure accurate data about your BigCommerce store in Google Analytics. Littledata automatically integrates with BigCommerce sites to capture every customer touchpoint, including sales, marketing, customer and product performance data.
You can install the app directly from the BigCommerce app store.
What we track
Littledata automatically improves marketing attribution and captures more granular data about shopping behavior on your site. In addition, the app captures every transaction, including recurring orders and refunds. All of this data is available directly in Google Analytics.
Orders
Littledata tracks every sale on your BigCommerce site and sends detailed order and revenue data to the connected Google Analytics property.
Subscription events
Littledata's Recharge integration for BigCommerce automatically captures recurring orders, including first-time subscriptions and recurring orders.

We use the affiliate code in Google Analytics to differentiate subscription orders from one-off purchases. To see order affiliation, select Secondary dimension: Affiliation. You will then be able to see the affiliate codes in the Affiliation column.
One-off order: BigCommerce
First-time recurring order: Subscription First Order
Recurring order: Subscription Recurring Order
If you are using Recharge and BigCommerce, no additional setup steps are necessary to track recurring orders. However, we recommend setting up separate Views for analysis in Google Analytics. This can help you understand LTV by channel and organic vs paid acquisition for subscriptions, and get accurate conversion rates for first-time purchases. See how to set up views and filters for subscription analytics.
Checkout funnel
Littledata automatically tracks these steps in the BigCommerce checkout funnel, and sends the data to Google Analytics. We recommend the following labels for each step:
Step 1: Customer information
Step 2: Shipping information
Step 3: Billing information
Step 4: Payment method
Transaction (Order complete)
Note that you don't have to put a label for 'Sessions with Transactions', as this is automatically populated when a customer completes a transaction. Read more about how to configure a checkout funnel in Google Analytics.
Ecommerce events
These are the server-side events that Littledata sends from BigCommerce to Google Analytics. These events will show up as events under the BigCommerce (Littledata) event category and in Enhanced Ecommerce reports in Google Analytics.
| | |
| --- | --- |
| Event Name | Description |
| add_to_cart | The user has added a product to the cart and left it in the cart for more than 10 seconds |
| remove_from_cart | The user has removed a product from the cart |
| Checkout | The user has viewed a step in the checkout |
| Transaction * | The customer has completed a web order (excluding iOS, Android, POS, and draft orders) |
| Refund | Web order has been refunded (full, partial, or custom refund) |
For details on event properties and additional fields, see our Google Analytics and GTM data layer guide.
* Transaction events may be delayed by up to 30 seconds to include any updates to order tags or status made by other apps after the order was created
note:
You can find the complete tracking schema for Littledata's BigCommerce connection here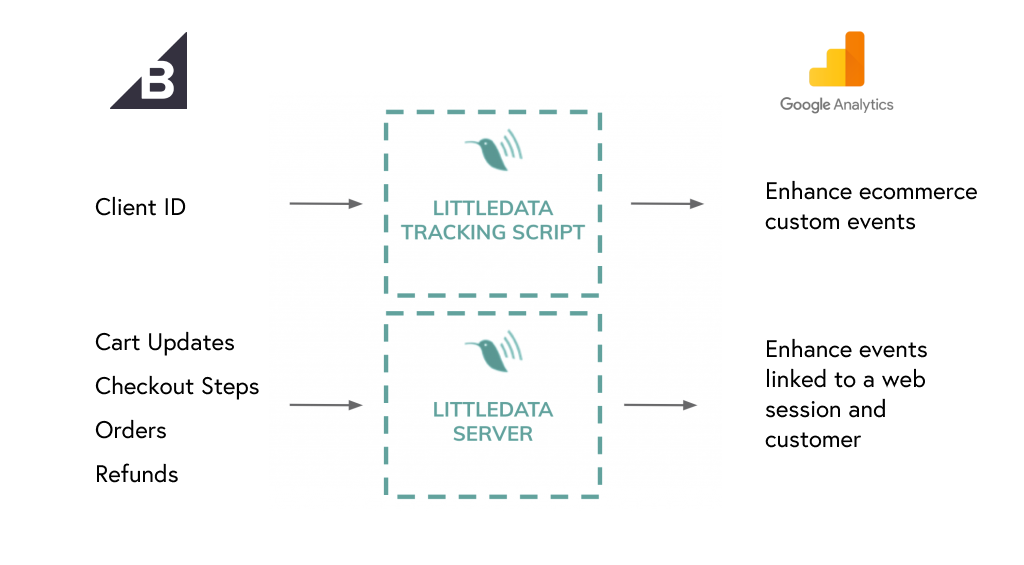 How it works
Littledata uses a combination of client-side and server-side tracking to ensure accurate ecommerce data in Google Analytics. Here are more details about how it works.
Client-side tracking
During the automatic installation process, Littledata adds a data layer and tracking script to all of your store pages.
A LittledataLayer window-scope Javascript object is added on all pages, which you can also use with Google Tag Manager (GTM).
A minified tracking script, hosted on a content delivery network (CDN), is loaded in the <head> of each page
Google's gtag library is then loaded on each page
Google's client ID (user identifier) is passed to our servers to ensure consistent user journey tracking
We then stitch this client-side (browser) tracking together with server-side tracking to connect marketing channels and browsing behavior with checkout flows and purchase behavior.
Server-side tracking
During the setup, Littledata also adds a set of webhooks to your BigCommerce store. This means that each time a user takes action our servers can relay that event to Google Analytics, ensuring 100% accuracy. There are many advantages to this approach:
Smaller script in the browser = faster page load
Complete event capture for checkout flow, including sales and refunds/returns
Avoids no tracking of the order when the user doesn't wait for the thank you page to load
Avoids double tracking of the order status page when the user reloads
Accurate marketing attribution (sessions stitched together) across all checkout types
Multi storefront
Littledata also supports BigCommerce Multi Storefront. During the setup our tracking scripts will be injected in all enabled storefronts. Therefore, all storefronts will benefit from our client-side and server-side tracking mentioned above. If you want to adapt your Google Analytics setup to also support Multi storefront please refer to this article