Referrals are the portion of the traffic that reaches your website via a hyperlink from a different domain.
Google Analytics automatically recognizes where traffic is referred from before arriving on your site, and displays the domain names of these sites as the referral source in your reports.
Why do you need to exclude referrers?
However, sometimes a session is incorrectly marked as a referral, when it is really part of the same user journey.
To make sure you don't break the user session with an incorrect referral, you can create a set of conditions that identify the domains whose traffic you don't want to include as referrals.
Google Analytics previously called this 'referral exclusion' but now calls the feature 'unwanted referrals'.
What referrers to exclude
Here are some scenarios in which you would not want to identify traffic from a domain as referrals:
Third-party payment processors where users return to your site after checking out on the third-party domain ( i.e PayPal)
3D secure pages where the user is directed to to verify a credit card purchase
Landing pages that you control but are part of another domain. Note: you'll need to set up cross domain tracking for these pages.
Other third-party interactions that are part of the user flow on your website, such as managing the account or password recovery
tip:
We don't recommend excluding your own domain, as this can mark self-referrals which are generally caused by missing tracking
Configuring unwanted referrals
In Admin, click Data Streams in the Property column, and select a web data stream
In the web stream details, click Configure tag settings (at the bottom)
In the Settings section, click Show all to see all available settings
Click List unwanted referrals.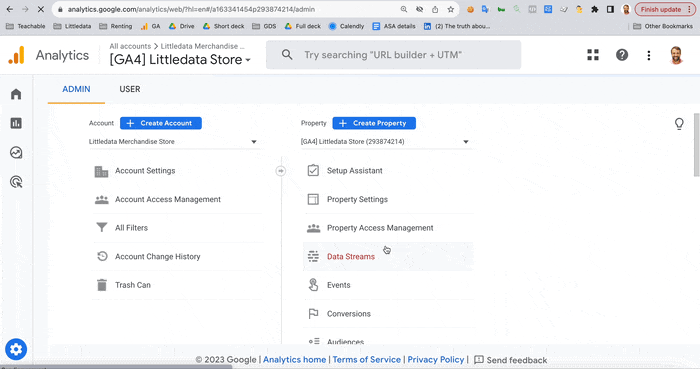 Under Include referrals that match ANY of the following conditions:
Choose a match type
Under Domain, enter the identifier for the domain you want to match (e.g. example.com).
Click Add condition to add another domain.

Click Save.
How to see referral traffic in GA4
Navigate to the Reports tab on the left side

Go to the Acquisition > Traffic Acquisition report

Scroll down until you see the search box and type referral

Click on "Session default channel group" and select source/medium

You will now be able to see referral traffic in GA4: