In this quick setup guide, we'll show you how to install Littledata Analytics, the most popular Shopify app for e-commerce tracking and marketing attribution in Google Analytics (GA).
Quick install video
Watch this video for a quick walkthrough of our installation process.
Quick install guide
Step 1. Search for Littledata on the Shopify
Step 2. Begin the installation process by clicking on "Add app".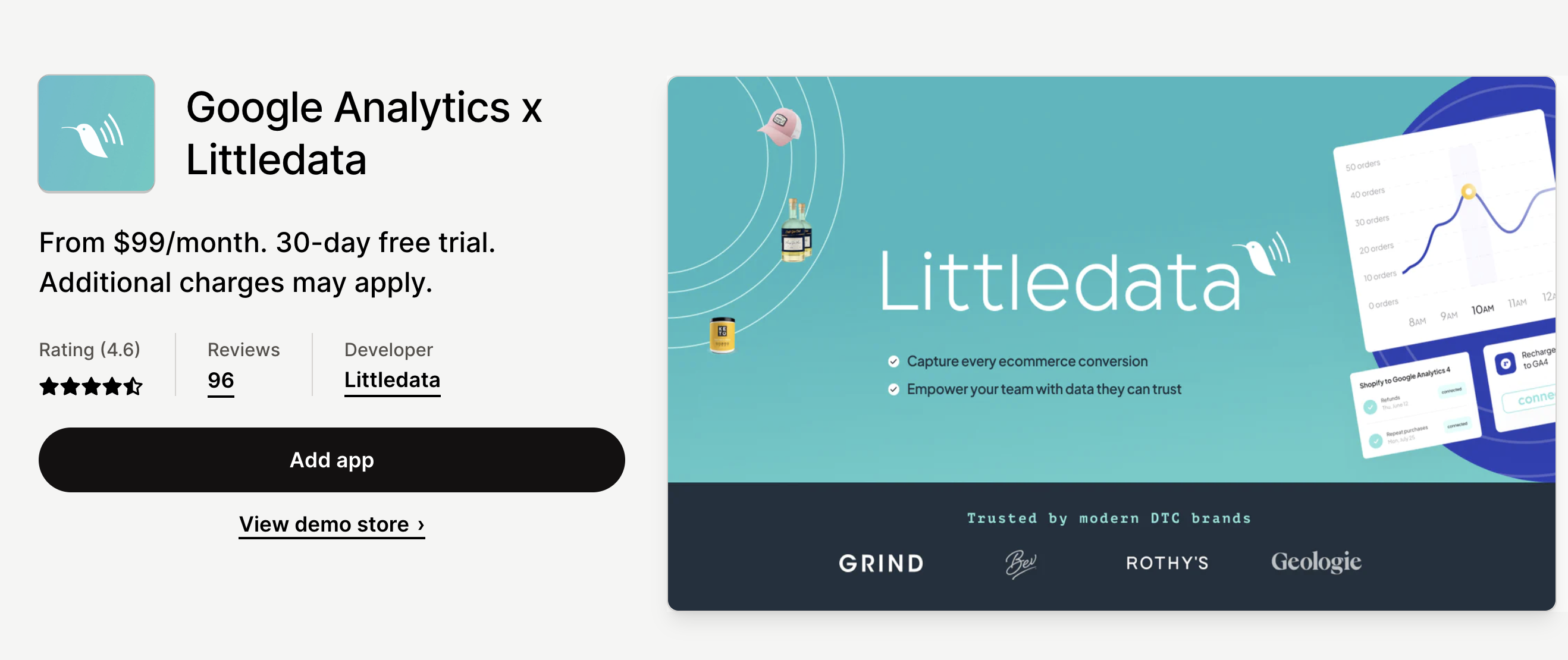 Step 3. Click on ''Install app''.
Step 4. Complete the onboarding survey.
This is going to allow you to choose where you can send your data, fill in information about your store and tell us what you're looking to get out of Littledata.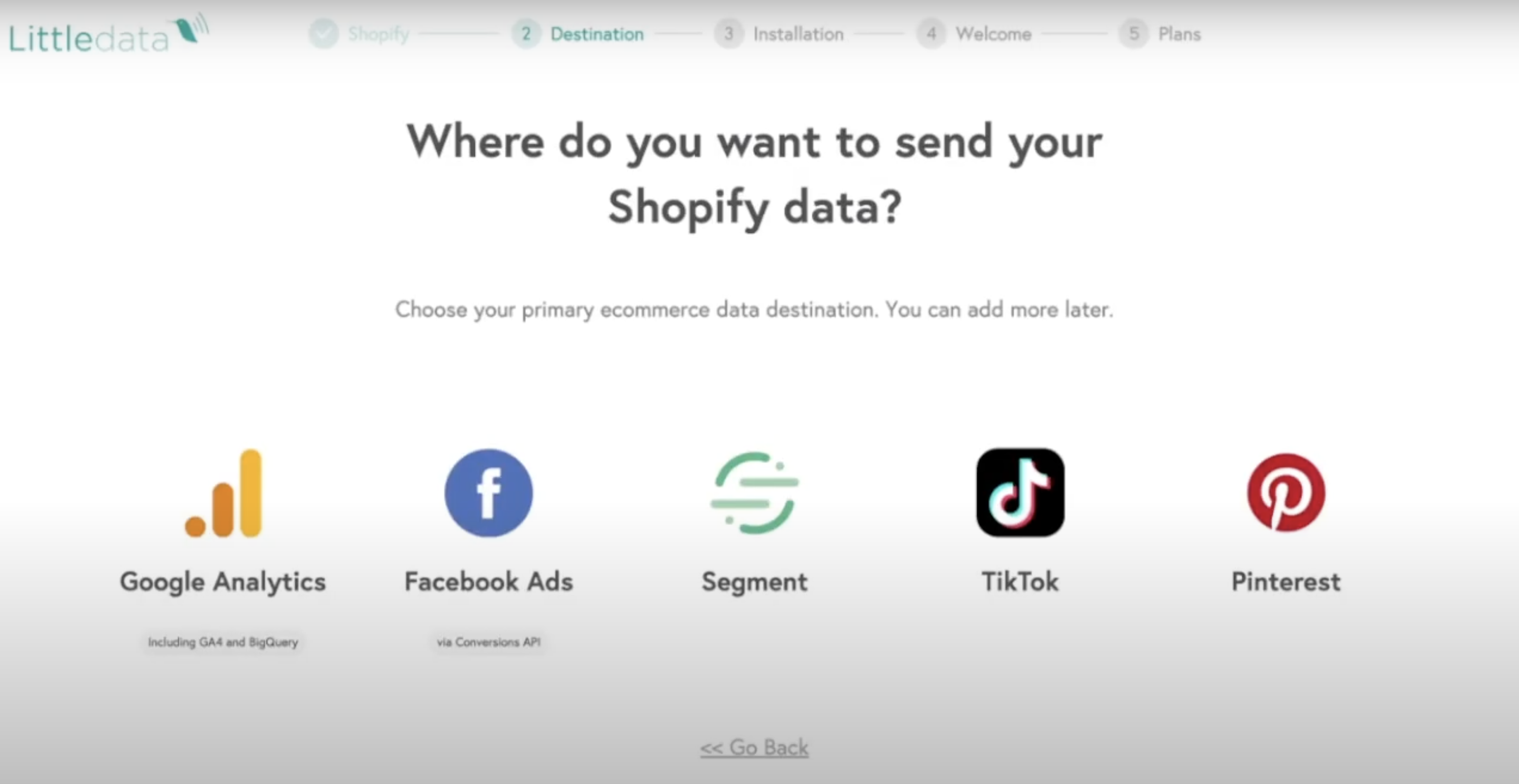 Step 5.  Choose your plan and connections.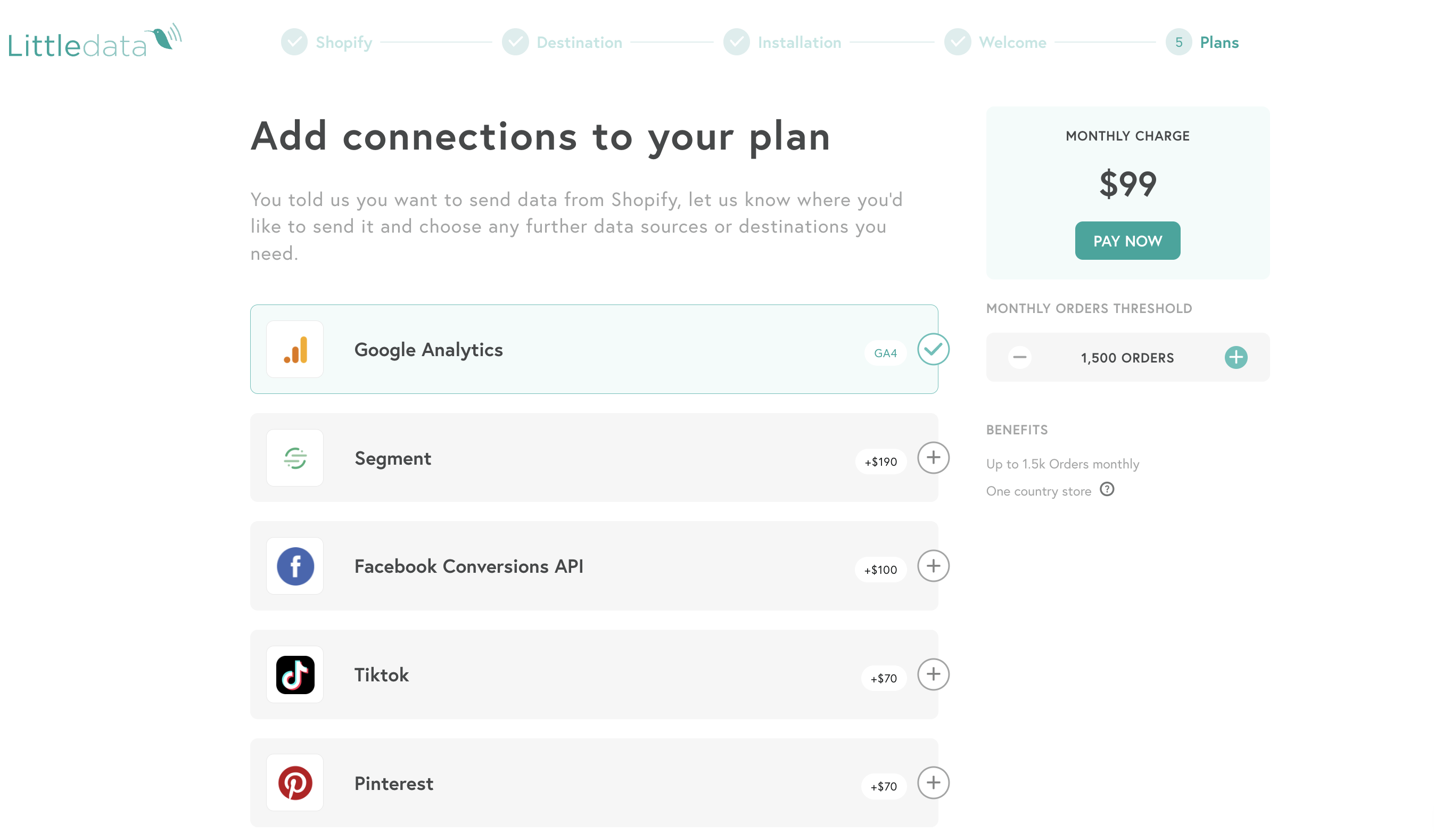 Step 6. Approve the recurring charge
After selecting your connection, click on ''Pay Now''. This will redirect you to Shopify to approve the recurring charge that will be applied after the end of your 30-day free trial.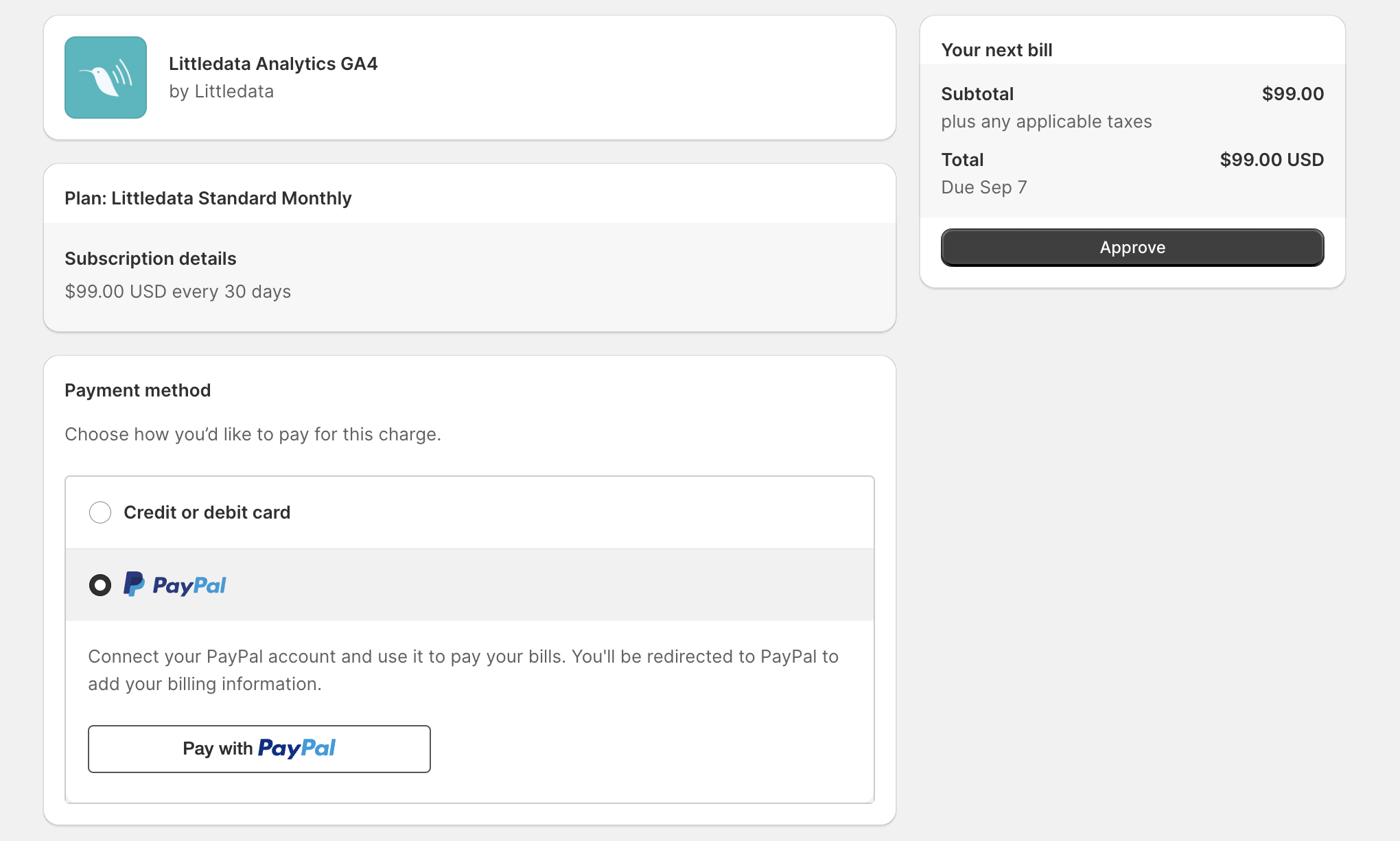 Connect Shopify to Google Analytics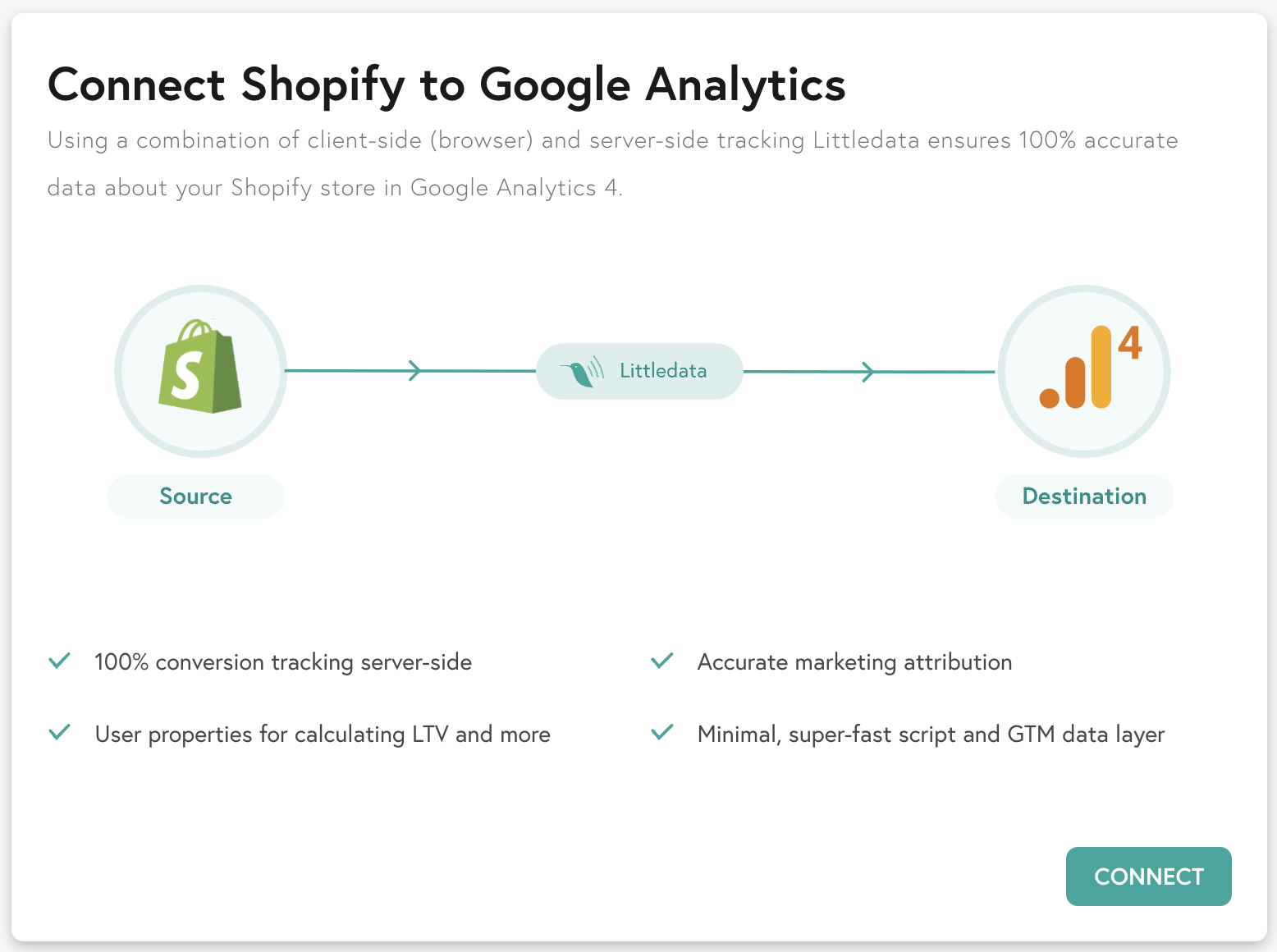 Customize your tracking
In this step you can customize the server-side events that you would like to track, the order and product identifier.
a) We recommend tracking all events, but you can customize the server-side events that we track to your Google Analytics 4 property. You can always update this in the Data Pipeline Settings.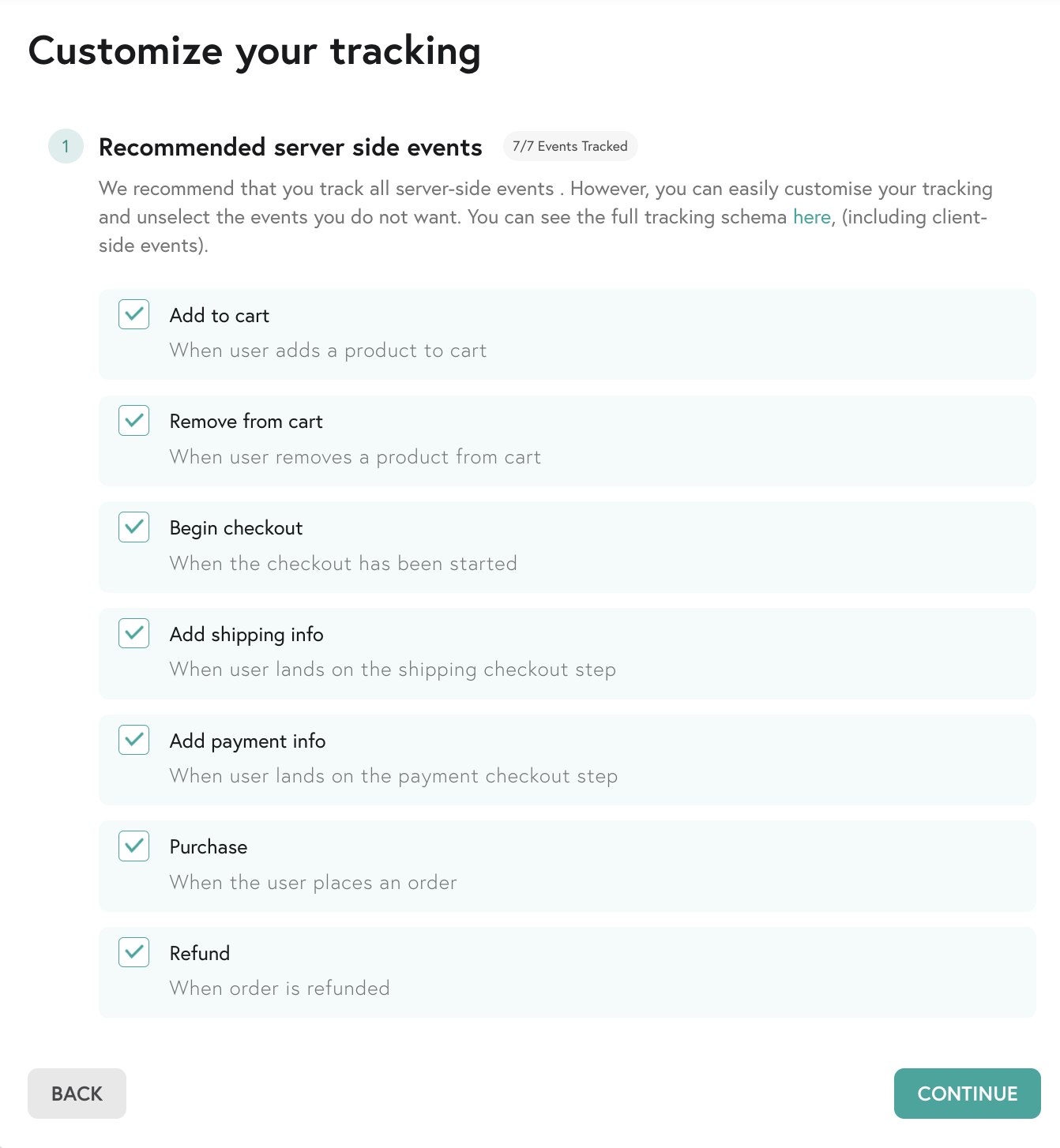 b) We recommend displaying the orders by Shopify order name - this gives maximum flexibility in tracking order prefixes and suffixes and orders across multiple stores.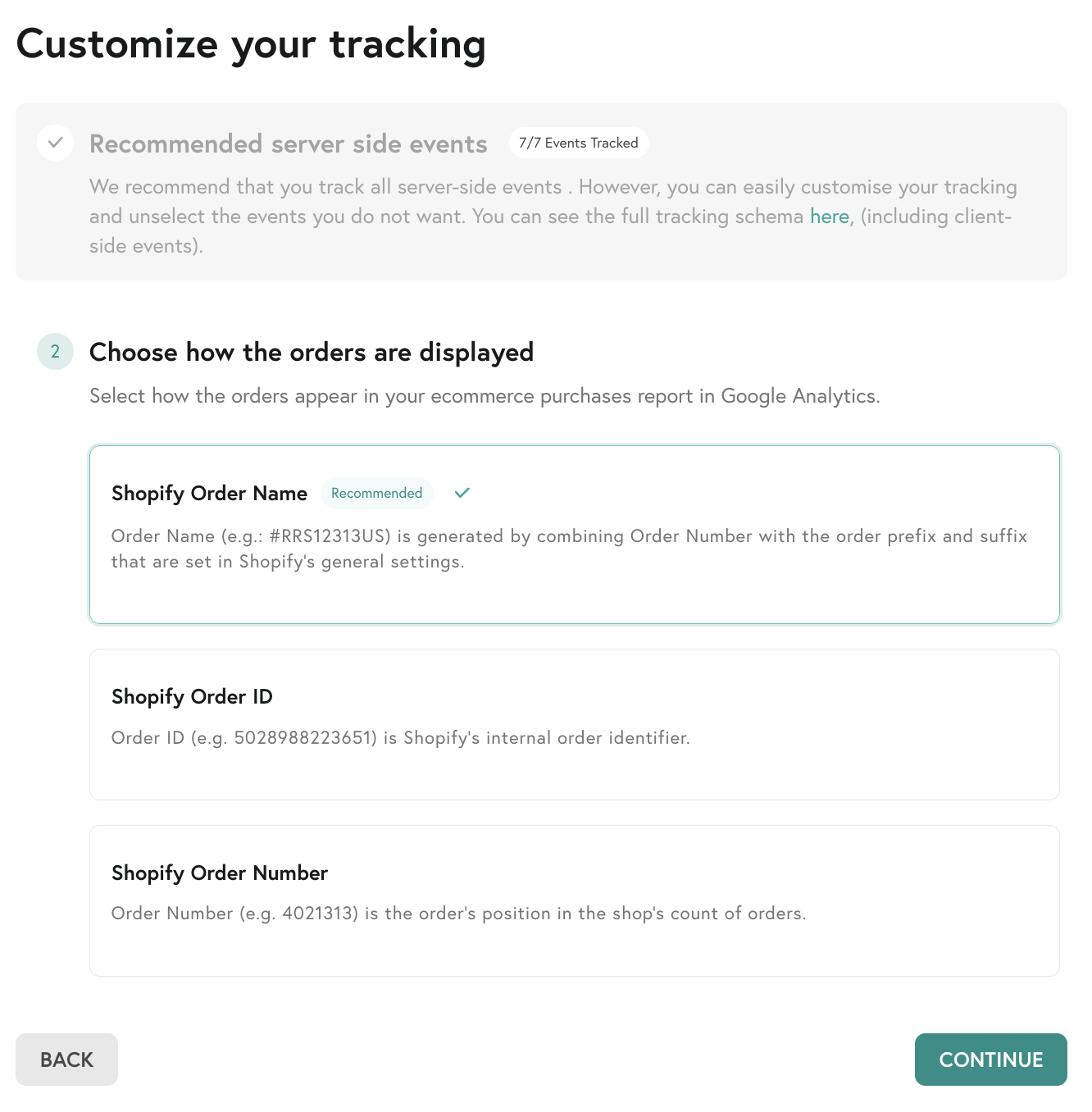 c) We recommend selecting the Shopify Product ID, but you can opt for Product Variant or Product SKU.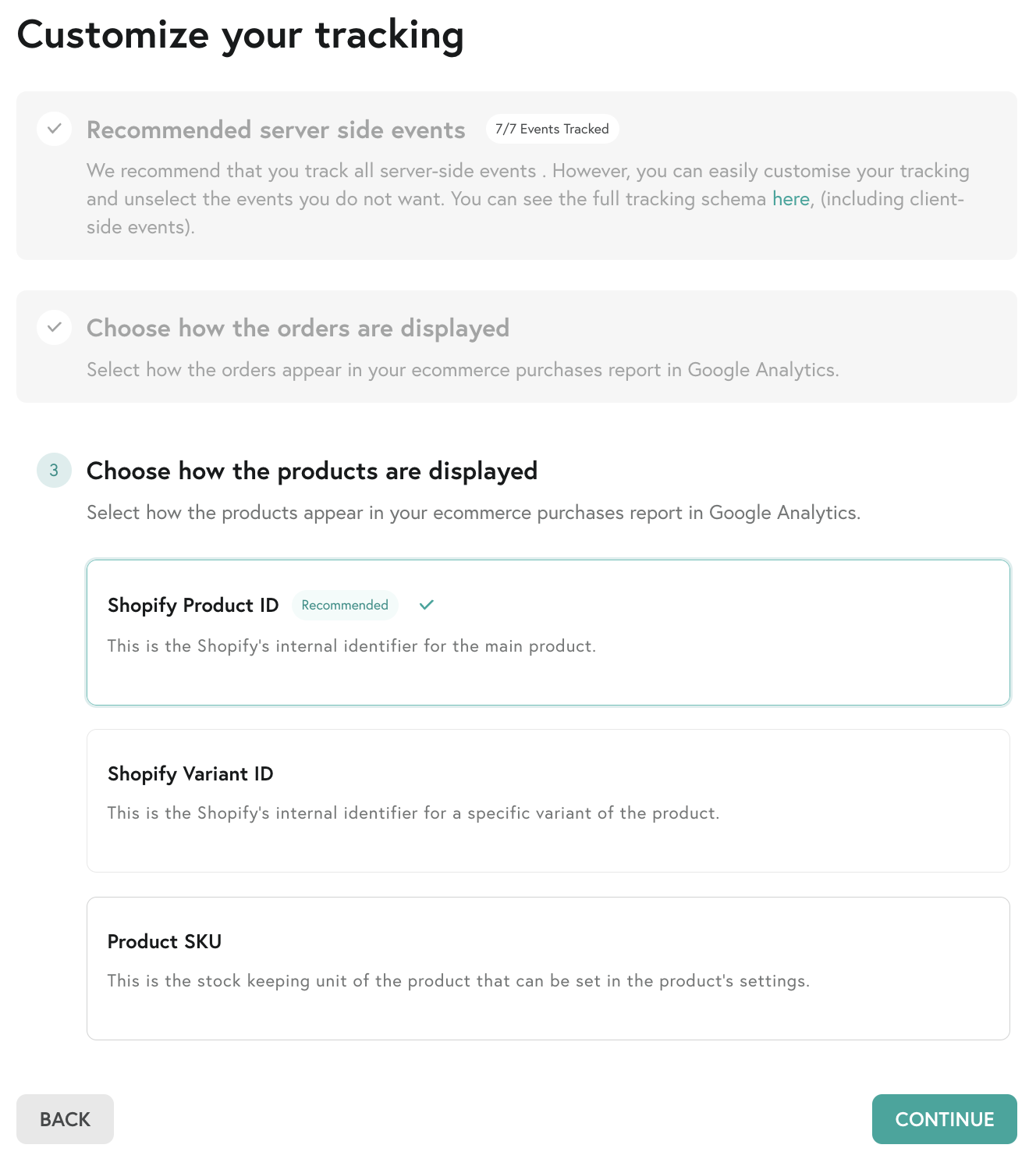 Connect your Google Analytics 4 account
In this step, you can choose how to connect Littledata to your Google Analytics account. We recommend the automatic route for the most optimal setup.
a) Automatic setup
Automatically select the account, property, and data stream to report on or create a new property and data stream. You will need permission to edit the GA property.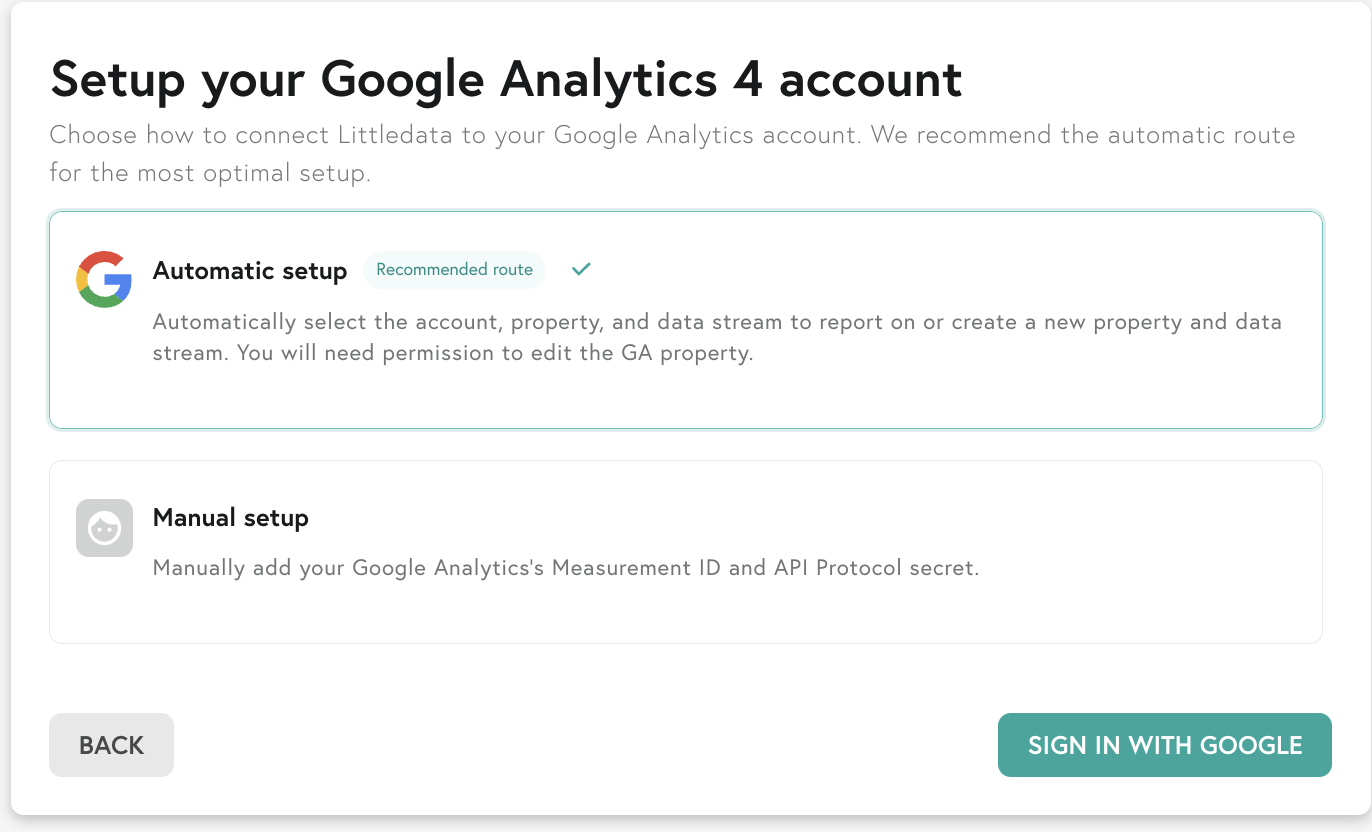 b) Manual setup
You will need to input the Measurement ID and API Protocol Secret so that our tracker can establish a secure connection between Shopify and our servers for data transfer and server-side tracking.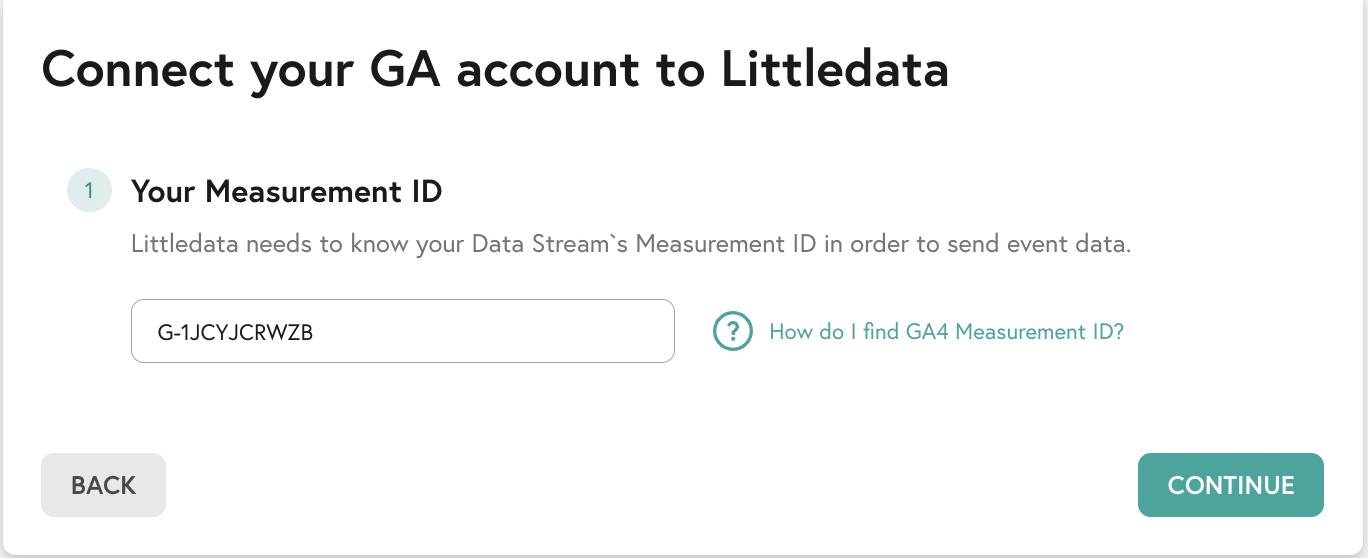 Please follow the in-app instructions to learn more about how you can find your Measurement ID and API Protocol Secret. You'll be able to watch a video on how to find the Measurement ID and API Protocol Secret.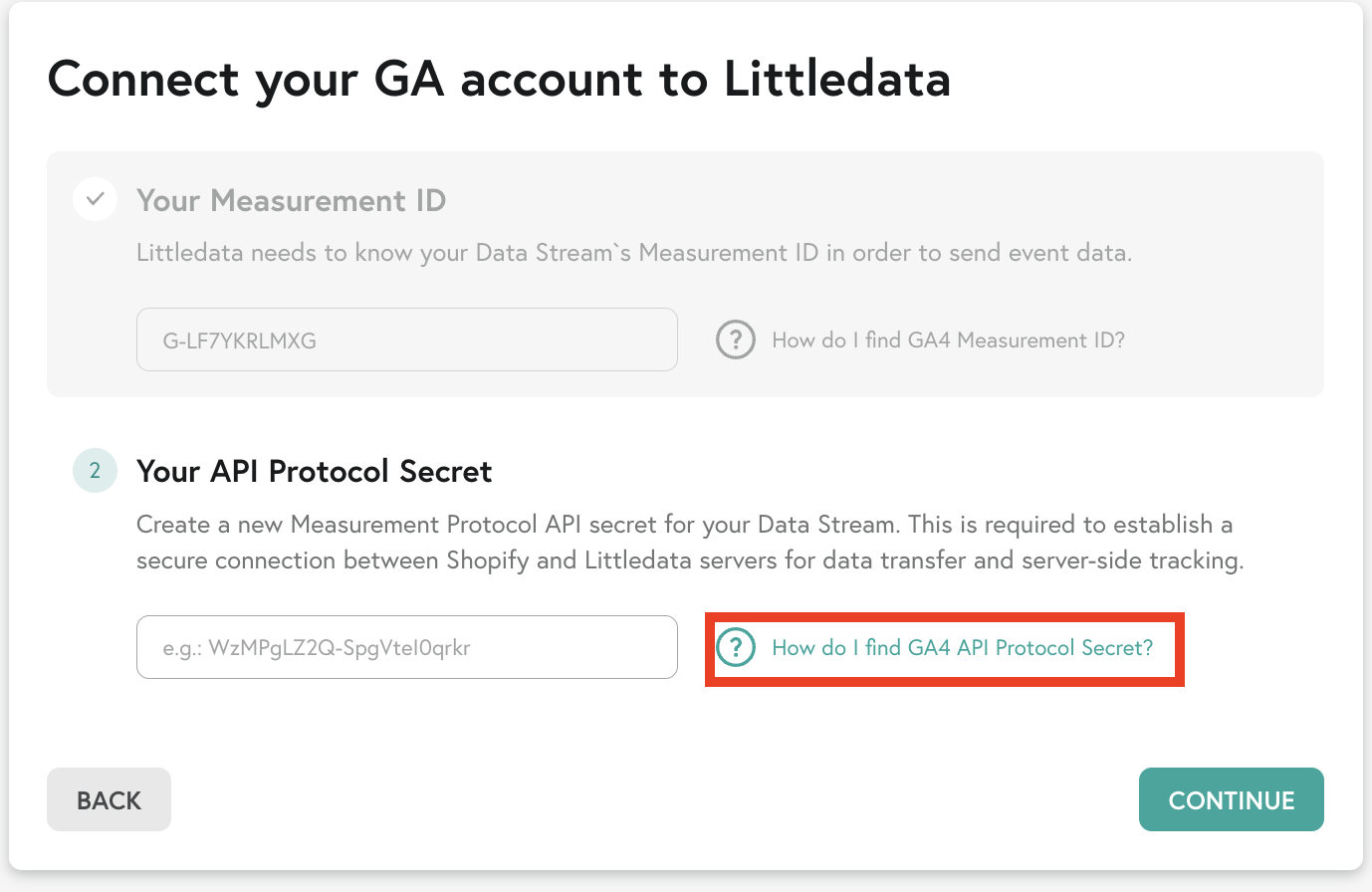 Choose the preferred installation type
We recommend the Automatic route, but depending on your setup you can select either the Automatic or Manual installation route.
a) Automatic installation
We recommend going the automatic route unless you have a headless storefront.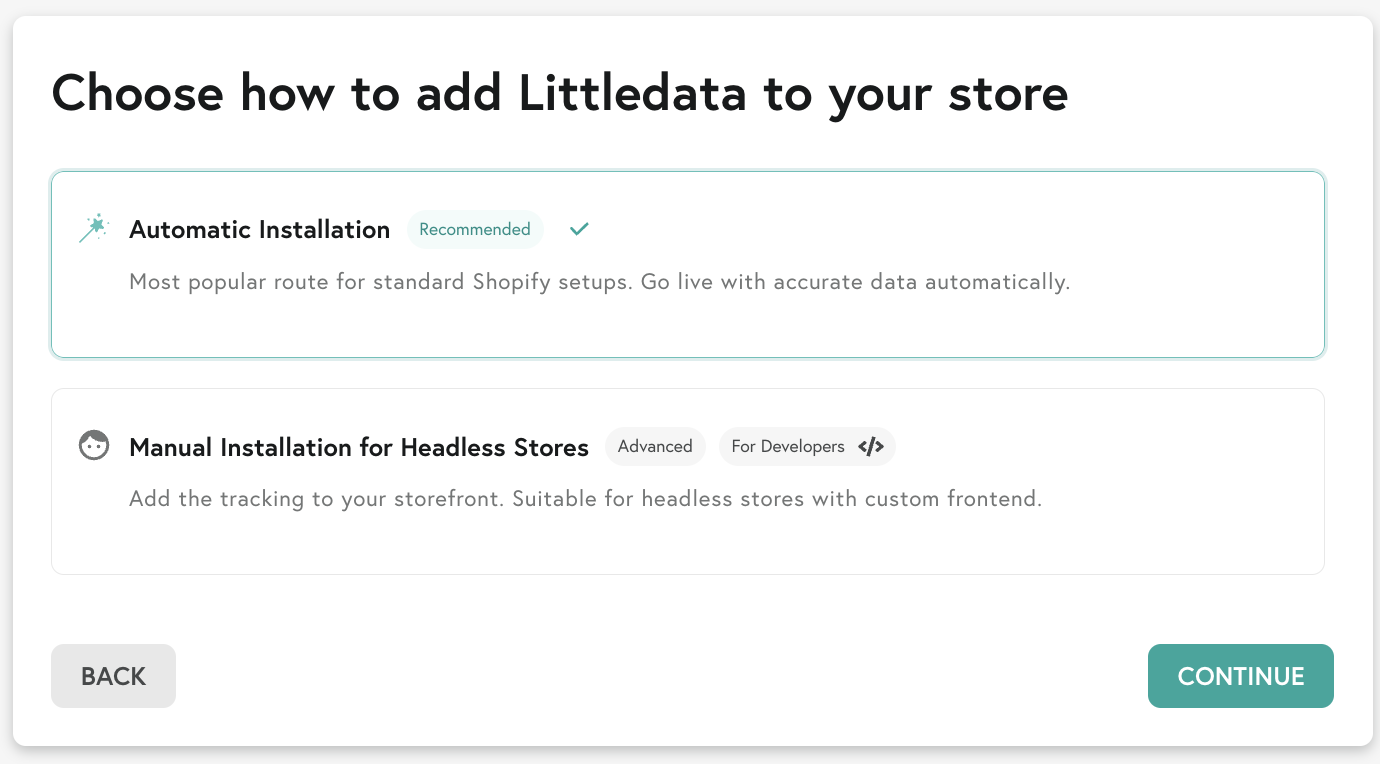 Disable the duplicate tracking
If you connected Littledata to the same GA4 property as your old tracking solution then the latter has to be removed to avoid duplicate tracking. Confirm that duplicate tracking has been disabled and click on ''Continue''.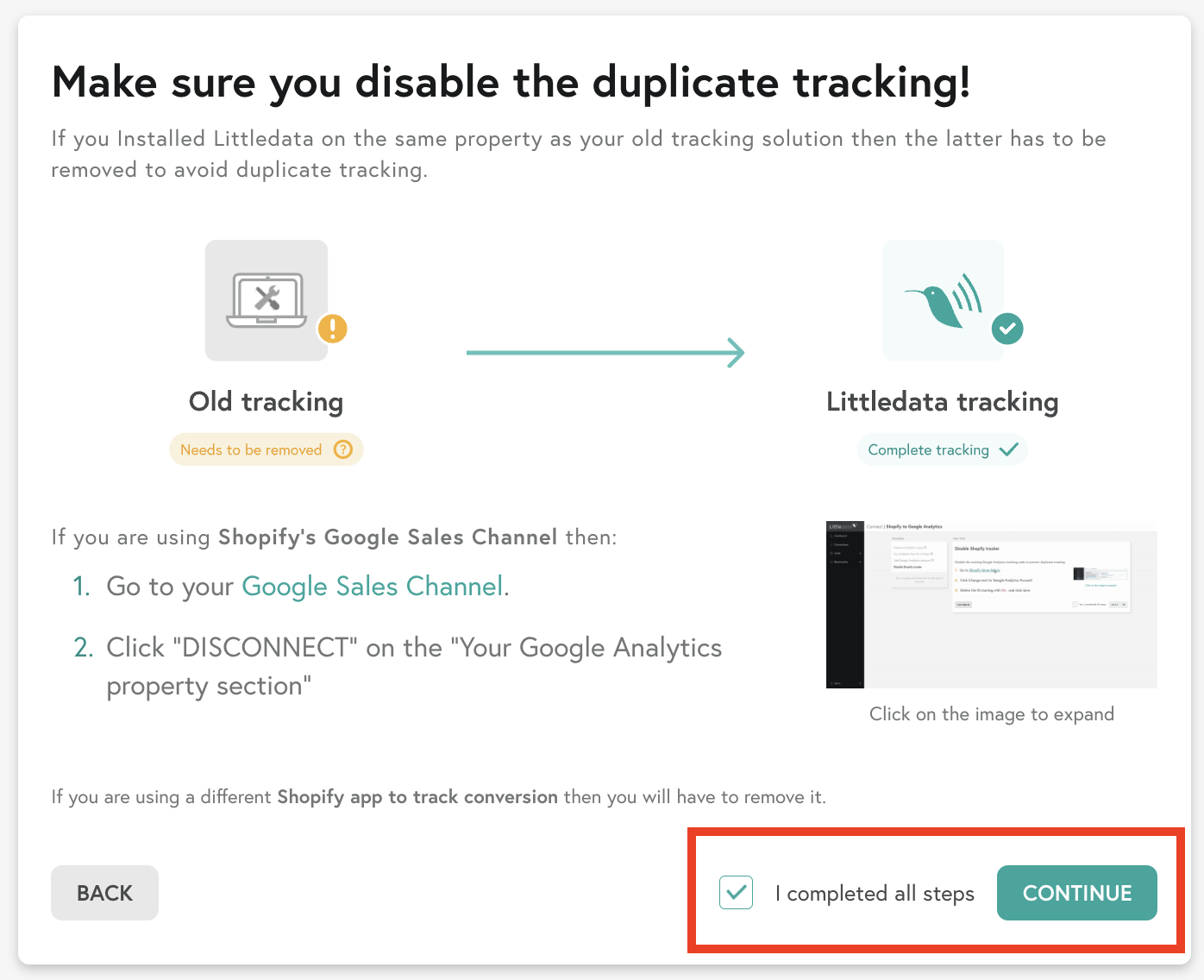 Updating the tracking code and webhooks
During the automatic installation process, Littledata adds a data layer and tracking script and a set of webhooks to your Shopify store.

When the installation is successful you will see a confirmation page. However, if there are any issues with the installation you will see a message with further instructions.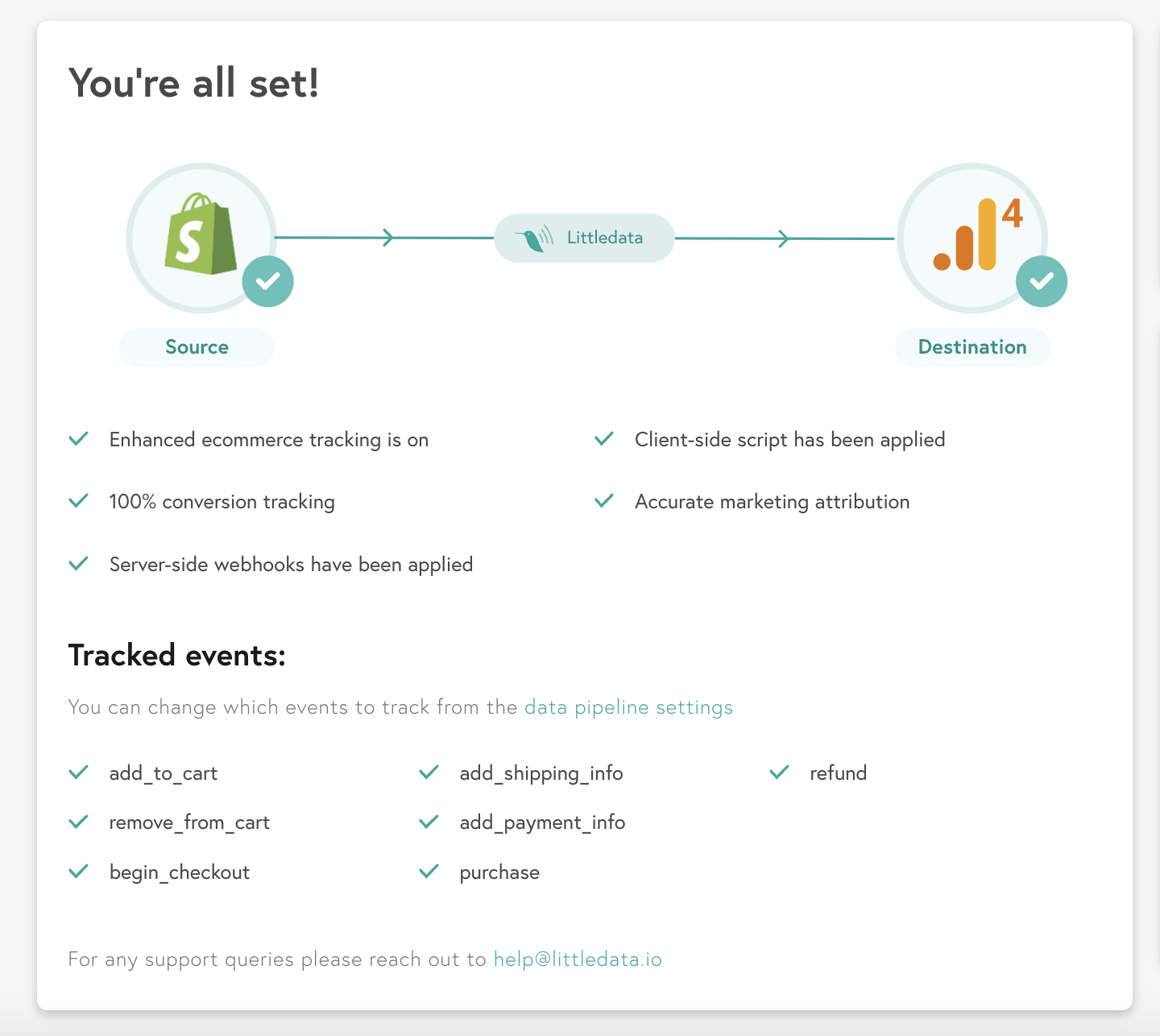 b) Manual installation for headless stores
This route is suitable for headless stores with a custom frontend. Select this method and click on Continue.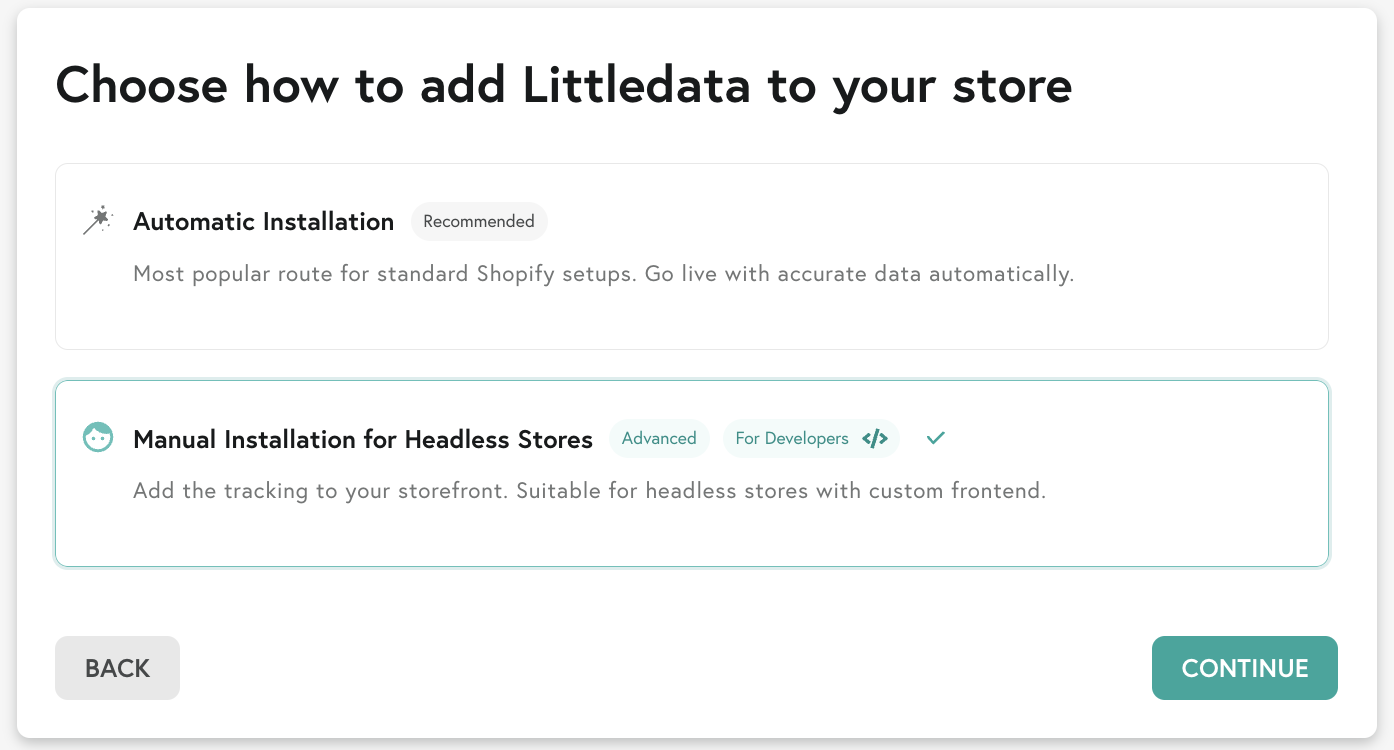 Add client-side tracking to your headless store
For a comprehensive guide on our headless implementation please visit our Headless Shopify Demo page.
Disable duplicate tracking
If you are using a different implementation to track checkout steps and purchases, we recommend disabling it before continuing with the instalation.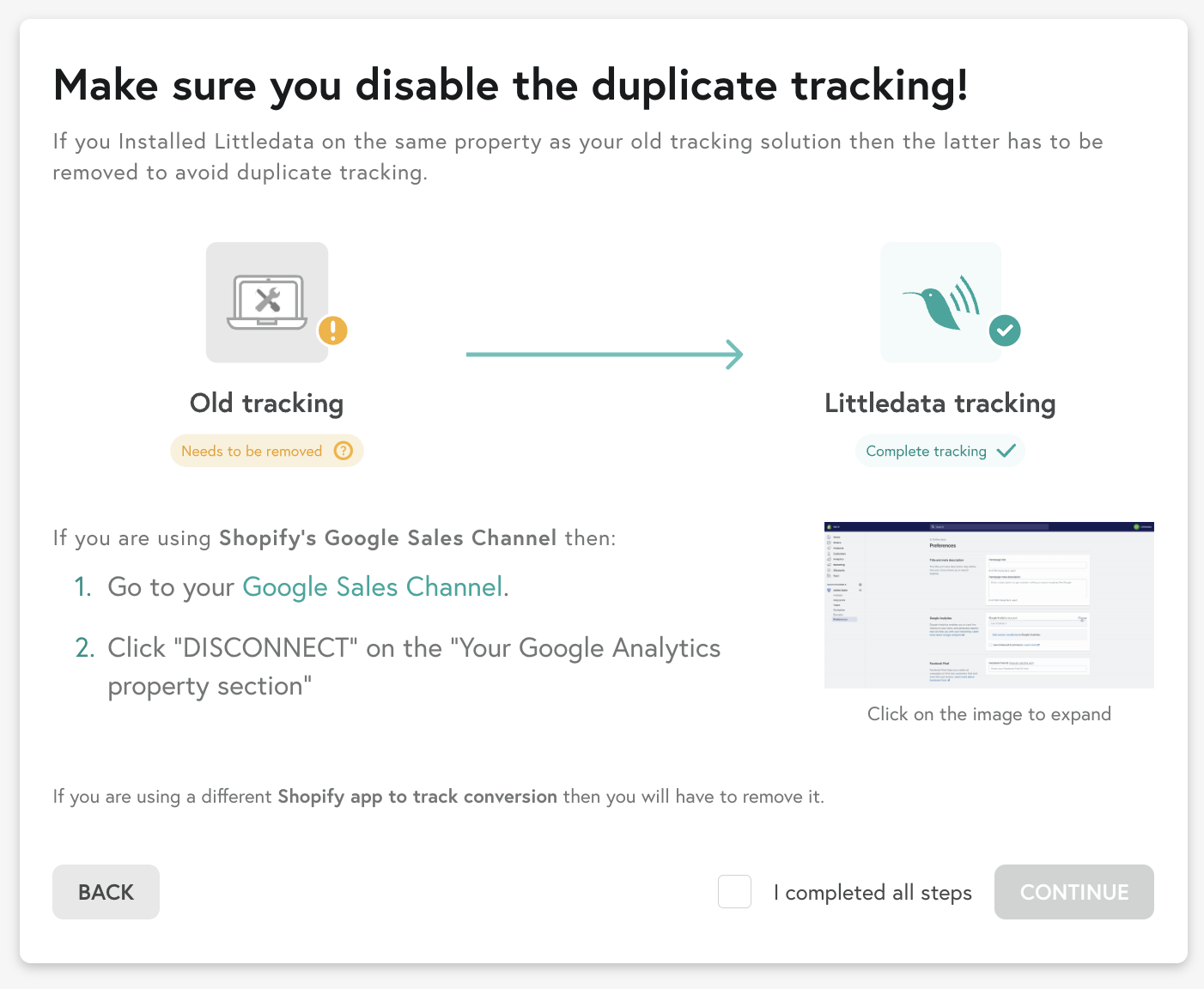 Updating the tracking code
During this step, Littledata adds a set of webhooks to your Shopify store that ensure our servers pick up the checkout and order events.
When the installation is successful you will see a confirmation page.
We recommend going through the courses that our team has created. This way you will be able to find out more about our product and how to set up exploration reports in Google Analytics 4.